West Springfield, Mass.—May 1
Competing at IHSA Nationals is a feat in itself between the nervous excitement of being at one of the biggest competitions for college riders all year and the task of immediately adapting to a catch-ride while staying perfectly poised. If you were watching Allison "Alli" Bienas in the novice equitation division yesterday, you might have noticed she was navigating yet another challenge—one that no one else had to.
Bienas, a junior at Delaware Valley College (Pa.), negotiated her way around the ring in the flat class with perfect posture and eyes up. But she had to steal glances away from her horse's track every few seconds. She wasn't looking at all her teammates who crowded the in-gate, eyes glued on her, but to a certain someone in the center of the ring.
"I've always loved horses; I was born with that horse bug! But because of the fact that I'm deaf, my parents didn't really want me to get on a horse. But I had the bug for horses, and it was strong!" she said in sign language through her interpreter, Kelly Deibert, who accompanied her to West Springfield, Mass., for Nationals, and stood in the center of the ring to sign, "walk," "trot," "canter," and other directions from the announcer as she gracefully rode an unfamiliar mount on the flat and got fifth place in the competitive class.
Bienas grew up in Newtown, Pa., and after a few riding lessons (to the reluctance of her parents!) at age 11, she knew it'd be her life passion. At 16, she got a horse of her own, Hudson, and started showing in the hunters and equitation. Now 21, Bienas studies equine training at DelVal, where the equestrian program is hands-on and "the perfect place" for her.
"The horses were awesome," signed Bienas to me, her eye contact direct and countenance confident. "I couldn't have picked a better draw. It was a great experience and it makes me a better rider, so I can't thank the IHSA enough. Both [horses] said, 'OK, I'll do whatever you want!' And I asked!
"I couldn't eat anything this morning; I was so nervous," she added. "But now that my classes are over I'm just, 'Whew!' "
Though she was a bit nervous, she felt right at home at the Big E with the teammates she loves. "It's a nice escape [from school]—it's a mini vacation with my family!" she said, her contagious grin growing ever wider.
There's an ease and comfort at the DelVal ringside box, decorated in banners and hosting a table full of inviting treats. Bienas, knowing I was new to the competition (she had been once, last year, and helped her team take overall fourth place after she got second in novice over fences) and that I was here alone, invited me to sit with her team after I pressed stop on the recorder.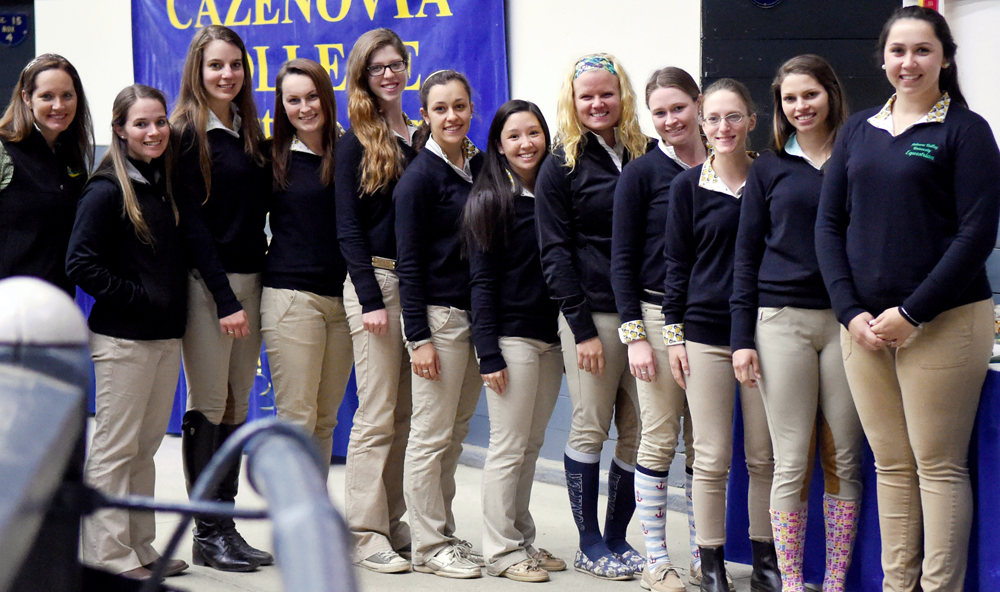 The Delaware Valley University equestrian team is represented at IHSA by (from left) Cory Kieschnick, Ciara Menkens, Renea Russo, Melissa Eaton, Katie Goldberg, Rachel Solera, Alicia Fung-A-Fat, Allison "Alli" Bienas, Abigail "Abby" Gess, Marie Koder, Olivia Gardner and Ally Brink."I'd rather have a group photo with everybody," said Bienas.
There was no forced conversation, just a friendly vibe in the air that made me want to be a part of the team myself. And as I stayed, watching the afternoon classes, I grew even more inspired and touched by the DelVal camaraderie and Bienas, the epitome of a role model. After watching nice rounds, Bienas and her teammates would exchange knowing looks, and joke in between, with Diebert fitting right in with their rapport.
I'm sure it won't be the last time you see Bienas at IHSA Nationals, or later on in the horse world as a professional in some capacity. "Perfect practice makes perfect!" is one of her mottos, and she lives by it at school, going out to the barn to ride Monday through Friday around her classes.
"If it's possible, I'm going to continue after I graduate and see what happens after that," she said. "I am hoping somehow to be involved in the horse world pretty much my whole life!"
The IHSA Nationals take place on April 30-May 3 in West Springfield, Mass. Want to see how each college's team is doing in the IHSA Nationals? Click here for team standings.
You can find all IHSA Nationals results here. And there's live streaming of all the competition here.