Wellington, Fla.—Feb. 10
The adorable Haflinger Lutz captured COTH readers' hearts in September when we featured him in our Winner Of The Week series. And when COTH's Lindsay Berreth spotted Lutz's cute face at the Adequan Global Dressage Festival in Wellington, Fla., we knew we had to catch up with Lutz.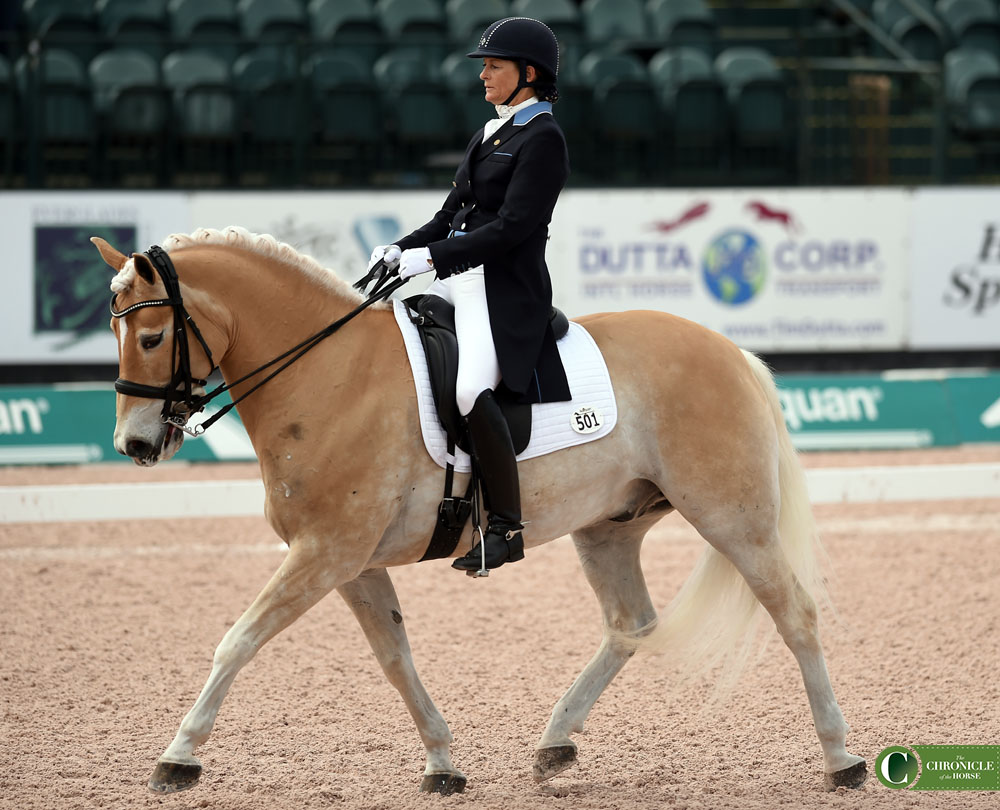 Susanne Hamilton on Lutz in the CDI*** Prix St. Georges at the Adequan Global Dressage Festival. Photo by Lindsay Berreth
You can read all about Lutz here: "Winners Of The Week: Lutz Bests The Big Horses In At GAIG/USDF Region 8 Championships." We found out how owner Bettina Hinckley imported the 14-year-old, 15.2-hand gelding (Argument—Mandy, Navis Van De Wellenhoff) in late 2015.
She shares the ride on Lutz with trainer Susanne Hamilton, who showed him in national-level Prix St. Georges and Intermediaire I classes during 2016. At the end of COTH's article, Hamilton said, "You never know—we may or may not decide to pop him into a CDI."
It was prophetic, as Lutz made his U.S. CDI debut at the AGDF CDI on Feb. 9, scoring a 67.50 percent to take seventh place in the CDI*** Prix St. Georges. And on Feb. 10, he claimed sixth in the Intermediaire I CDI*** (68.15%).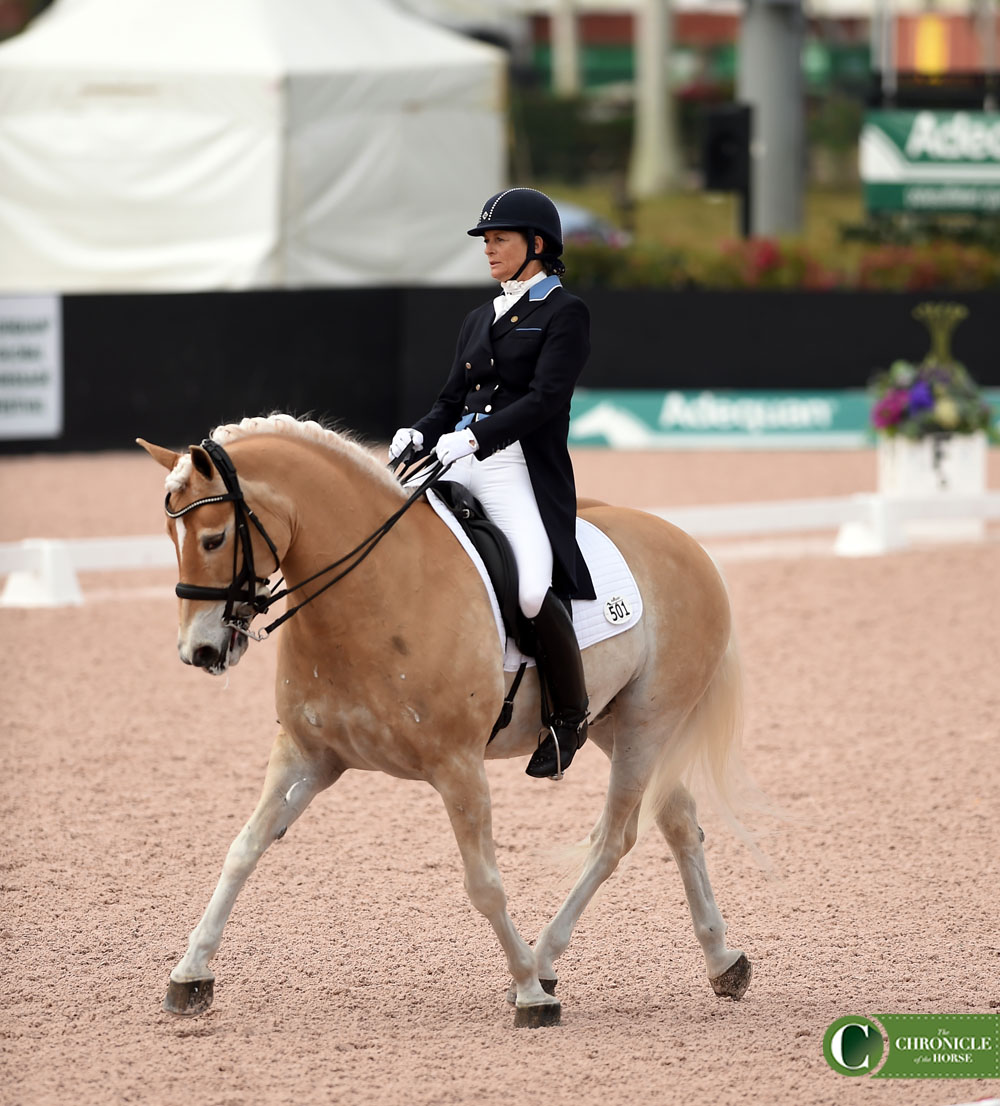 Susanne Hamilton and Lutz. Photo by Lindsay Berreth
"It's going great—that's something for a little Haflinger! He's not the usual horse, but the judges are recognizing him. What is correct is correct," said Hamilton, who rode him. "I really give kudos to the judges to be open-minded enough to reward him for what he does well."
And whle he might not have earned a blue yet, Lutz is the talk of the show. "I have to say, I've had so many people talk to me about him," Hamilton said. "When he was done with his Prix St. Georges test, there was unbelievable applause. People were roaring! It was so much fun. Everyone said we won the most applause award. I don't know that I'm a crowd favorite rider—that would go to Steffen [Peters] and Laura [Graves]—but when it comes to horses, Lutz has a huge fan club."
Hamilton said that Lutz takes the electric atmosphere of the AGDF center stage in stride. "He's perfect. He's the kind of horse that marches into a new stall like he's lived there his whole life and he marched into the stadium like he belonged there. I don't think he had any idea he didn't look like the rest of the horses," she said.
Hamilton was looking forward to their Intermediaire I freestyle on Feb. 11. "He's got a very fun freestyle, so I hope he gets to show it off. It's a Disney theme," she said.
Hamilton actually just got back on Lutz last week—between his triumphs in the fall and his arrival in Florida, it was Hinckley riding him.
And as for Lutz's future? "It'll be up to [Hinckley]," Hamilton said. "We don't have any immediate plans. We just wanted to see how he'd be received. We bought him first and foremost for his owner to ride and she really enjoys him. If she chooses to have him show more, we'll see. We're just going with the flow."