Wellington, Fla.—Feb. 11
Charlotte Jorst has been working hard to be competitive on the Wellington circuit with Kastel's Nintendo since she decided to focus on the Grand Prix level a few years ago, and this year it's been paying off.
In the last two weeks, she's picked up three blue ribbons, her first at the Adequan Global Dressage Festival with the 14-year-old Dutch Warmblood stallion.
After topping the CDI-W Grand Prix Special two weeks ago, Jorst returned this week and took home the win in the CDI*** Grand Prix (71.30%) and the CDI*** Grand Prix freestyle (73.07%).
"I don't think I ever realized that it was this difficult, it's been such a journey for me for so many years," said Jorst of her decision to compete at the international level. "I was working and working, and I knew that I needed to do something. I turned 48 and I sold my company, and I set out to do this crazy thing. It is totally my passion."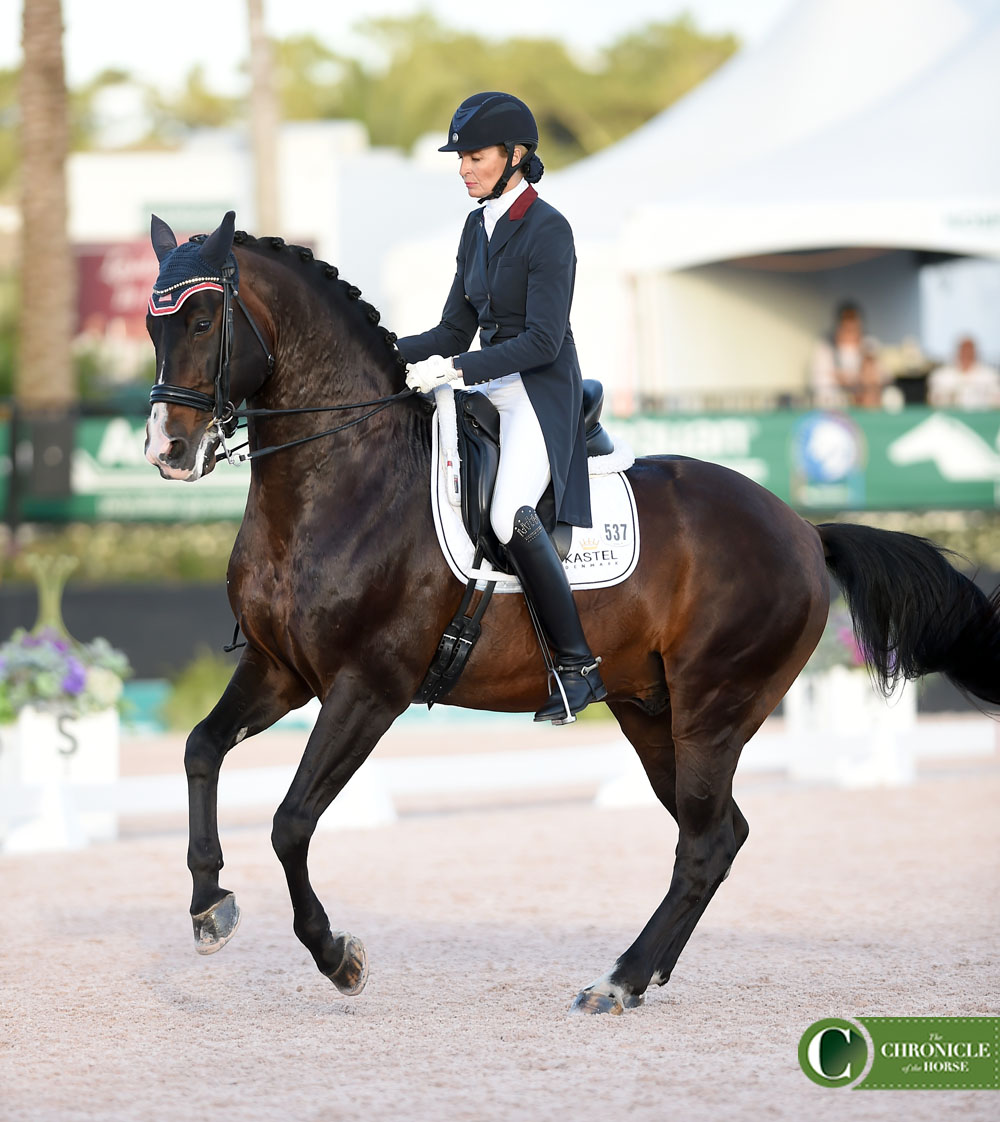 Charlotte Jorst and Kastel's Nintendo. Photo by Lindsay Berreth.
"Nintendo" has been in Jorst's barn since 2014 and has served as a schoolmaster for her.
"My favorite thing about him is his spirit. He just goes and goes. All of those years when I made mistakes, and I didn't really know what I was doing, he just kept on going and kept trying to figure out what I was trying to ask of him. He still does that all of the time, and he is such a pal in the ring for me," said Jorst, 51, Reno, Nev.
For her freestyle, Jorst rode to Andrea Bocelli's "Time To Say Goodbye," music that she thinks fits Nintendo's "grandiose" way of going.
"I was very excited to be back out here. I haven't ridden that freestyle since [the 2016 Longines FEI World Cup Final,] not even once, so it felt really great to get back out and get Nintendo going. He loves his freestyle and his music, and so do I. It's always a highlight for us to get to do it, and he felt wonderful today," she said.
"I was searching and searching to find music that I really loved, and when I was in Vegas with my husband and my family, and I was walking past the Bellagio, and the water was dancing around everywhere, and they played 'Time To Say Goodbye,' and I was like, 'Oh my gosh, if water can dance like this, I can totally dance like this as well,' so that was the beginning of it. Then it was easy to find the other pieces."
Jorst is eyeing the World Cup again this year.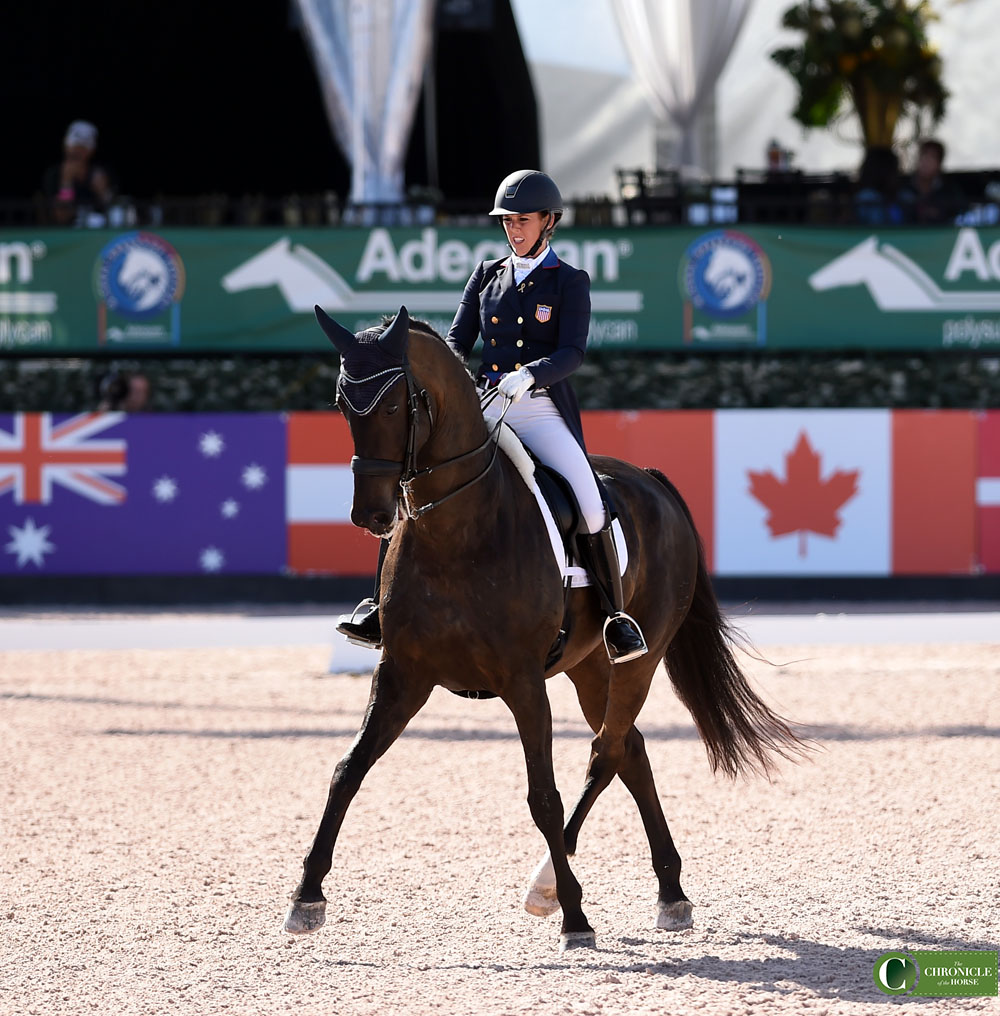 Kasey Perry-Glass and Goerklintgaards Dublet. Photo by Lindsay Berreth.
Kasey Perry-Glass made her first foray back into the competition ring with Goerklintgaards Dublet, a 14-year-old Danish Warmblood, and they made it a winning one, topping the CDI***** Grand Prix Special (76.56%) after a few mistakes in their Grand Prix test on Thursday cost them points.
"I had a little bit of a rough start with my Grand Prix and to come back and ride an almost-clean test was good. I'm clutching this [winning] cooler very tightly because I wanted one so bad!" she said with a laugh.
"I felt like I was able to call up a little bit more power from him today. We had a little bit of connection issues in the half pass, but it's just something we're always working on with him. It's not his super-strong area, so we're just going to keep going back to the drawing board and figure that out with him," she continued. "He has pretty good piaffe and passage, so I feel like he was pretty honest for me with that today. We had a little bit of a bobble in the ones, but the twos felt great."
The pair had a meteoric rise in 2016 in their first year in CDI Grand Prix competition, culminating in a trip to the Olympic Games in Rio De Janeiro, Brazil.
"He was pretty hot in the Grand Prix, but I liked the feeling of that. I just wasn't expecting him to be that fresh, so when I went for almost all of my extended trots he broke. It's just learning how to ride him again in the show ring," she said. "He's been off since August. We ran through the Grand Prix one time before at home. He's just coming out a little bit different this year, a little bit stronger, and I think I need to really work on finding out how to fine tune his strengths right now."
For full results, click here.
Check out more from the AGDF CDI***** in the Feb. 27 issue of the Chronicle.