As you read on, you will clearly see how special I think this horse is. Seeing as all my horses are part of the business my Dad and I set up, it is tough knowing that everything is always for sale—it's especially hard with the special ones (of course, they are all special in their own way).
Kaiden, however, takes the cake thus far in my riding career. For however long Kaiden stays a part of the BG Equine family, I will consider myself extremely lucky and fortunate. If/when he goes on to another pilot, I wish them nothing but the utmost successes that I know they will have. The possibilities are endless, and I can't wait to see what this horse continues to do.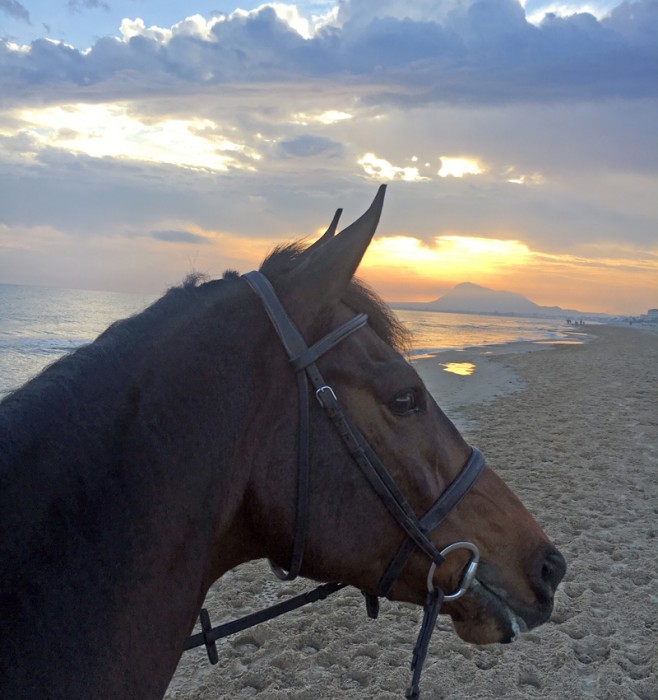 This is pretty much a letter of praise to Kaiden; so, if you are not up reading about a girl gushing about her horse and the experiences they've shared together, then I warn you to STOP NOW!
Kaiden,

I cannot begin to thank you enough. This past year has exceeded my expectations tremendously, massive part in thanks to you.

When I first got to Ireland, I never would have thought you would have joined my four-legged family. I remember watching you for the first time when Ger (O'Neill) came to Greg's to give you a school on the grass. I remember thinking what a great little horse you were and how lucky someone was going to be when he or she got you as their own.

I even sent video of you to several people back in California that I knew were shopping for horses at the time. Lucky for me, you weren't the "right fit" for any of them.

Kaiden chilling at his stable.

You are a fighter and a winner. You have a will to win more than any horse I have ever had the chance to ride. You rise to every occasion presented to you, which in turn makes my confidence soar.

When we got to Liverpool, I was shocked at how composed you were. You have quite the personality, and I thought you were for sure going to get there and show it off. But no, you showed up and did your job—no funny business.

Before the competitions began, I remember Greg telling me you didn't have much indoor experience. I was already nervous for my first FEI international show and for him to say that was the topper. But once we crossed the start timers it was smooth sailing. You were consistent, placing in the top 10 each day with a second place finish in the final.

I actually remember thinking in the middle of my second round how much fun I was going to have with you over a bigger track. From there, I knew how much fun I was going to have with you throughout the year.

The Sunshine Tour in Spain set the stage for what was to come. The week before the 7-year-old final, we decided to do a 1.40-meter class to get our eyes up. It definitely did not go to plan and I remember asking, "Did I just take away his confidence?"

Everyone reassured me that it didn't faze you one bit—but I thought they were just trying to keep me confident. But they were right, and you showed to be the fighter you are. The final came, and you jumped better than ever! Soaring like you had been there and done it a million times before. This was the moment I knew you were a "real" horse and a SERIOUS teammate.

Our first Dublin qualifier was…scary. I for sure thought at this point I had lost both of our confidence. It was the first time we ever had to go against the clock in a 25+ horse jump-off (geez!). I definitely thought I biffed hard enough that it was going to be the beginning of the end before Greg or someone was going to have to step in and pick up my mess. But again, it didn't faze you. Your competitive spirit is unreal.

You were beyond amazing when we showed up in Lanaken for the World Breeding Championships. After you jumped the first day, I thought, "Wow, that is the best he has ever jumped." It was the first time since our bobble at the first Dublin qualifier that we had to put some pressure on the gas pedal. Holy smokes, you were amazing!

Kaiden and I jumping to a top-10 placing at the World Breeding Championships in Lanaken. Photo by Sportfot

Day 2, I knew we had to give it a go if we wanted a chance in the final—which you deserved so much to be in! And we did it! The final was massive, and you jumped around like the champ you are. Knowing you are a true show horse, I didn't doubt you one bit when we walked into the ring. You were an absolute rock star and that week will always be a milestone in my show jumping career.

A proud day: Kaiden and I in the ribbons in Lanaken.

I want to finish by apologizing for any arguments we have had along the way. You are a hardheaded little bugger. But what you need to know is when I ask you to do certain things; they are for your own benefit and ultimately for things to be easier on both of us.

Most of all, I just want to say thank you. Thank you for having your feisty personality and your winning ways. You have rooted a token of confidence in me that I will have forever. You have helped me firmly plant my feet in my decision to move to Ireland and give my international riding career a chance. You have made me hungry for more and to keep striving in pursuing my passion to the highest level!

You have set the bar very high for the horses that are to come in my future. They will have very large shoes to fill when they join the BG Equine family.

Love,

Adrienne
Adrienne Dixon, 29, from Hillsborough, Calif., is living the dream—training in Ireland with top show jumper Greg Broderick. After balancing her riding career with a full-time non-horse job for five years, Dixon decided to take the plunge and move her horse sales business to Ireland to train. You can read all about her decision to go to Ireland in her first blog, "California Goes Clover" and read all her blogs.