Just on a whim, Hallie Buttenwieser pulled Wanderlust out of the stall and hacked him down to Jim Brandon Equestrian Center in Wellington, Fla., to show at The Ridge Palm Beach Series' derby day on March 10.
And she got a very pleasant surprise when she and Wanderlust ended up with the blue in the $5,000 USHJA National Hunter Derby.
"He's kind of our all-around horse," Buttenwieser said of Wanderlust, who goes by "Turkey" back at the barn. "He's amazing. He's the type where if anyone needs a horse to show for the weekend, he's it. He's just sort of around for anyone to ride. It was finally a week that no one was riding him, and it was a fun class to do with him.  We just did it on a whim, and it turned out perfectly."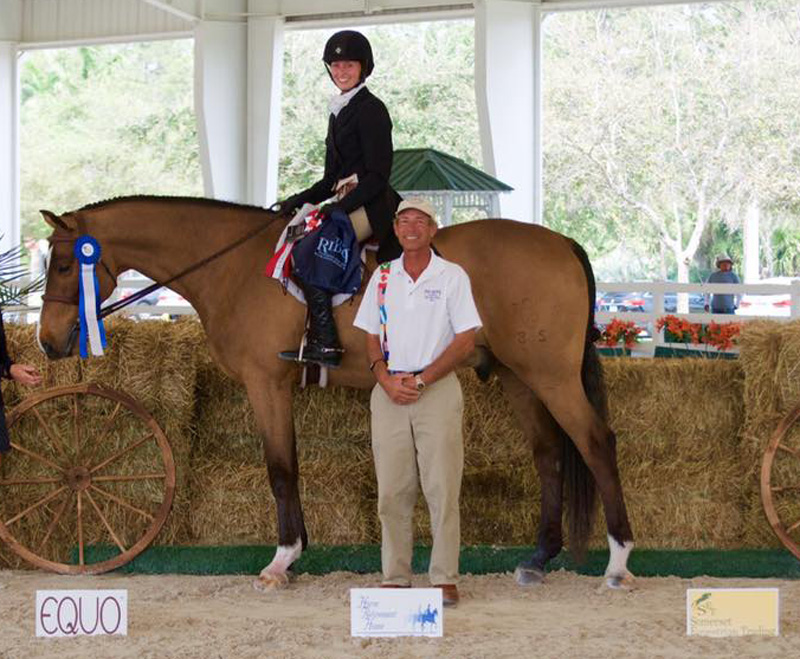 Buttenwieser has ridden Wanderlust for a year and showed him in some derbies last summer in Canada, but this was her first time showing him this year. "He's unbelievable. He's the same every single day, and he's the sweetest horse in the barn," Buttenwieser said. "He's like a pet; you can do anything with him. One of the women at the barn posted a really cute picture of him with her husband, who doesn't ride, riding him the day after the derby. It said something like 'Friday derby winner, Saturday husband-horse trail ride.' But that's just him—he's very easy and kind. He doesn't care about anything."
Buttenwieser, 26, works for Courtney and Ainsley Vince at their Linden Ridge farm in Burlington, Ontario. The Vinces and their students are in Wellington for the winter and show mostly at the Winter Equestrian Festival, but Buttenwieser likes The Ridge venues as well for a more laidback atmosphere. "We can walk there from our barn, and it's quiet. It's a great place for horses you're trying to build confidence in," she said.
Buttenwieser, who is originally from South Salem, N.Y., had a successful junior career and is trying to find her way as a young professional. "I didn't do the equitation much. I rode with a lot of trainers who did a lot of equitation, so I got a lot of those basics, but I never owned an equitation horse," she said. "My grandparents were very supportive of my career when I was younger, and I had a nice junior hunter [Altaire] that we bought as a young horse and brought up from the 3′ to the 3'6," and I got to go to indoors on him. Eventually I had a nice junior jumper that I got to learn a lot from; she was a very good teacher."
At the end of her junior years, Buttenwieser sold her horses and headed to college at Trinity University (Conn.). She'd kept her horses at Double H Farm in Ridgefield, Conn., and offered to ride whenever they needed. In between college commitments, she'd travel there and flat horses. But for four years, Buttenwieser focused mostly on college.
"I felt it was important not necessarily from an education standpoint—I kind of always knew I was going to ride—but I wanted to have that growth as a person, to get away from home and grow up a bit," she said. "I took some classes in Florida one season, and I spent a semester abroad in Australia. I think that was the longest I've ever gone without riding! But it was good." She graduated with a degree in psychology in 2012 and immediately started working for Double H full-time as a rider.
"They gave me some pretty incredible opportunities to jump in big classes on really nice horses. I got very lucky with that, and I loved being there," she said. But after a few years, Buttenwieser felt the need for a change and went in search of some new opportunities. "I've been mostly freelancing," she said. "I started working for the Vinces last year and went back with them to Canada in the summer to help ride. Courtney in particular has been very influential in helping me stay in the ring on a really nice 9-year-old jumper, Easy Diamond. I've been riding her for a year, and she's a sale horse. We've done some 1.40-meter classes and smaller grand prixs, and I have a real bond with her."
Buttenwieser is a young professional with some lofty goals. "I would like to make a career out of riding. I would definitely like to jump in big grand prix classes and go to Europe and show on the Global Tour. I'm just trying to find my way there in any way possible. It's really hard; you have to be willing to work your way up, and I am," she said.
But she's finding it an uphill climb as an aspiring rider looking to make a name for herself and secure horses and support. "I try not to be discouraged, and I try to know that I'm young and working hard, but it's hard. There are people who are so much younger than I am who are already doing it. But a lot of people have given me great opportunities so far, and I'm very grateful for that. I'm just looking for my next step," she said.