West Springfield, Mass.—May 1
The IHSA Nationals are a unique competition with their own rules and a special sense of community.
Adaptability, ability to think in the moment and a cool head under team pressure are paramount, and we know these to be the cornerstones of catch-riding as well. But IHSA mounts are unique, too, and require a unique style of catch-riding.
So does this competition—there's nothing like it. And like all disciplines within the horse world, IHSA gets its fair share of grief from advocates of other disciplines. But did you know…
#1. The IHSA served as a formative base to develop some huge-name professionals like Olympians Beezie Madden and Peter Wylde in their early careers. Professional hunter rider Tom Brennan competed in the walk-trot-canter division at IHSA, a beginner at the time, and now runs a successful business out of his Winter Hill Farm (Va.).
Without that IHSA base, who knows where college would have taken him—maybe not into professional riding, a much more difficult career path to take without a foundation, school resources (horses and facilities) and programs.
"Who knows, we might get our next superstar from this event," said Jim Toon, who judges the hunt seat divisions at the IHSA Nationals with Danny Robertshaw. Which brings us to…
#2: The judging system uniquely suits IHSA to create a more equal playing field for riders.
"We have the option of taking into consideration if the horse is being difficult, if it doesn't do lead changes—we don't have to penalize [the rider for a missed lead change] if we feel that the horse doesn't do its lead changes," explained Toon, who's judged at IHSA shows but not at Nationals until this year.
"You don't penalize a rail as much as normal, or cross-cantering. They're basically school horses, but there are definitely a lot of good caliber horses here," Toon continued. "We had a young man ride a very difficult horse in one of the classes and we sort of rewarded him for riding so well with a very difficult horse. We gave him the benefit of it. So that's different, whereas we normally judge all those things I mentioned.
"[At IHSA] we do score, and we do compare like we do at a normal horse show, but those things are more forgiven. The kids are allowed to have martingales on the flat; some of the horses come back many times over the same course. And the kids, I think, are used to riding so many different horses; the quality of riding is quite good. A lot of these kids are really good horseback riders," Toon said.
"We've given 88s, 87s, 86s here, which are high scores," Toon continued. "As far as catch-riding—I think these kids are all used to it because they've been doing this event all year now and that's how their system runs. No one owns their own horse and it's all done by draw. I think they're happy."
Fun fact: judge Toon and IHSA executive director Bob Cacchione shared an apartment as young men in the late 1970s, shortly after Cacchione founded the IHSA Nationals. Cacchione is perhaps the most loved man at IHSA, greeting almost all the riders and their moms by name (literally).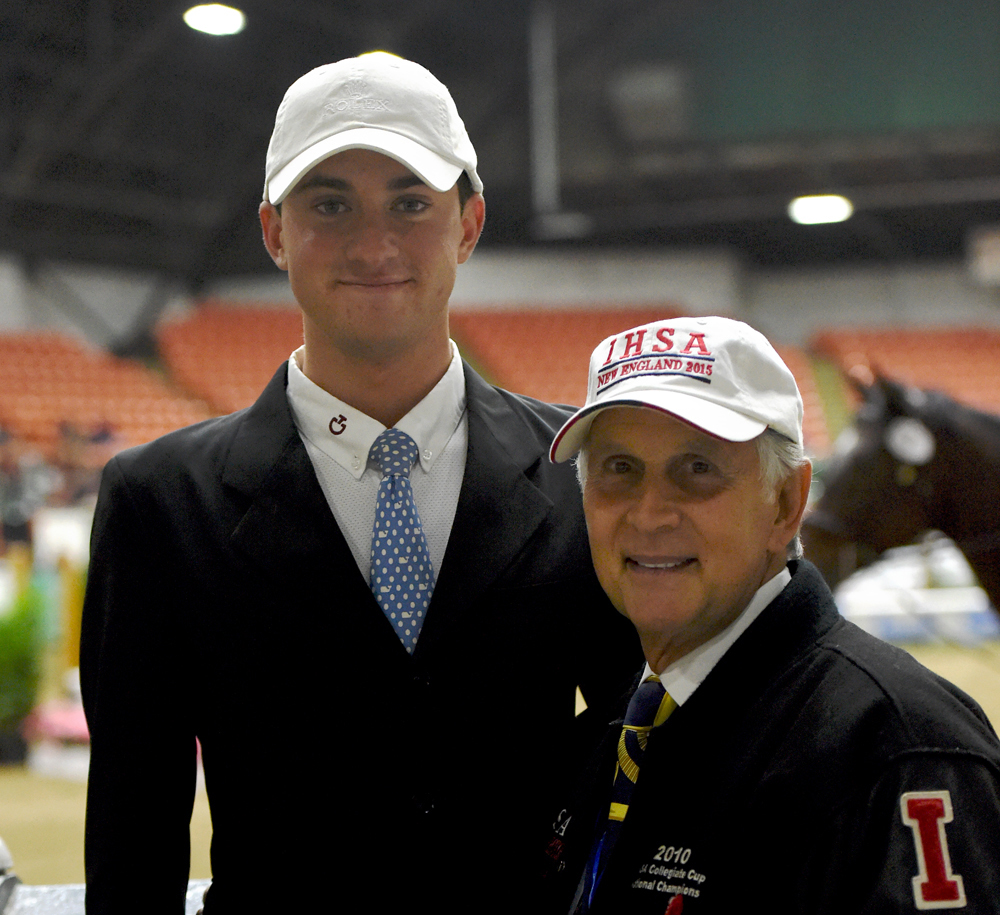 Bob Cacchione (right) is a mentor, friend and one of the biggest forces behind making the IHSA Nationals happen. Here he is in his natural habitat, socializing with IHSA competitor Cody Wooten.
#3: This is the 48th anniversary of the IHSA—and it's a contagious family affair. Numerous competitors you see showing have parents in the audience who competed at IHSA Nationals decades ago. For instance, Peter Cashman, first vice president of IHSA and coach of West Point (N.Y.), is a graduate of IHSA and is now enjoying watching his daughter, Shelby Cashman, compete in English and Western IHSA classes over the years. "My daughters grew up riding both," said Peter.
#4: Know what else is neat? IHSA encourages a variety of horsemanship skills by presenting a Versatility Trophy to the most successful rider doing English/Western double duty each year.
#5: The horses ridden at this year's IHSA Nationals are mostly from New England, considering the venue in West Springfield, Mass., this year. "Upstate New York, Connecticut, Ohio; I brought four from West Point; Centenary [College] brought 13 or 14; Skidmore gathered 30!" said Peter. "What we do is try to get as many schools to donate horses as we can. The school horse is perfect for what we do here; they're forgiving."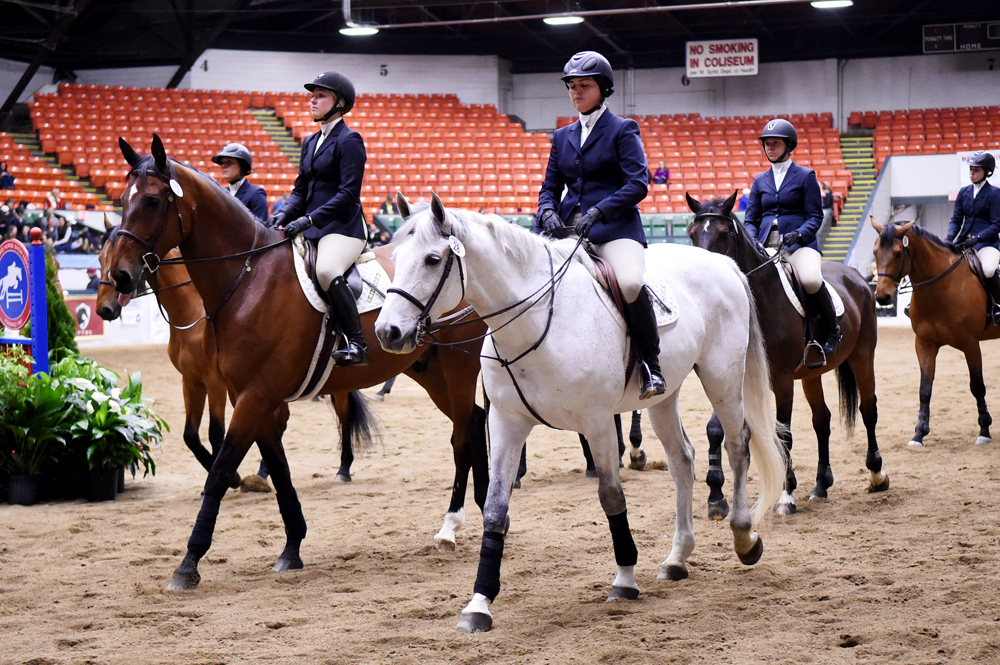 The school horses are the heart and soul of the IHSA programs.
#6: You might think Skidmore College has an advantage considering they're most likely to draw one of their own school horses. But Peter said, "Sometimes riding your own horse is just as hard. I've seen lots of kids at horse shows draw their own horse, and they had a perception of what to do, and it didn't work out. But if we didn't have these kinds of horses, we couldn't make it work." In short, IHSA mounts are pretty saintly.
#7: How do they choose the "right" school horses?
"We bring the horses in [the arena] on Tuesday and Wednesday and go through a whole series of schooling," Peter said. "We have a selection committee made up of team coaches and they watch all the horses go. We select 16 horses per class plus two alternates. Every kid is riding a similar horse; we try [to choose them] right down to the heights. So every kid feels like, "I'm riding the same kind of mount; I have the same equal chance." Because we really hate it when we have a horse that's not the same, and you get 'that' horse. So we work very hard to keep 'that' horse out of the class."
In the beginning of the week, all the students can ride, but 24 hours before the competition starts, only non-competitors can ride them other than in competition and its warm-up. There are early morning designated times for helpers to school horses, and the horses are constantly being evaluated for soundness and appropriateness for their respective fence height/level.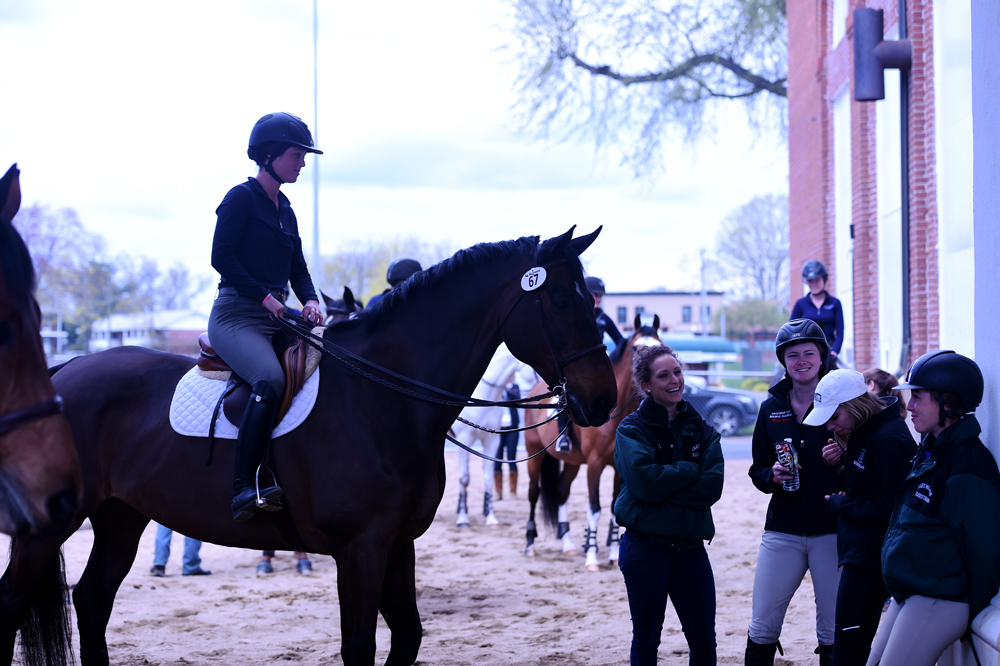 #8: The school spirit and sense of community are unmatched. "The interesting thing is that they're all very enthusiastic," said Toon. "I watch the kids when they get their presentation, and how excited they are. Some of them are depressed—they'd made a mistake and may mope for a moment—but they definitely are into it and they're all working together, which is really nice to see. These kids can ride and horse show without having a big budget. And they're with their buddies and college mates. College is such a great experience as it is."
#9: IHSA competitions take place throughout the year in eight zones and 38 regions within the zones. There are finals for each and the most successful teams qualify for IHSA Nationals, narrowing the field to the best of the best. However, tons of non-competing teams come to Nationals to cheer on those who made it.
#10: There are far more volunteers and behind-the-scenes helpers than riders, and they are responsible for keeping the wheels of the show spinning. More than half of them never meet the audience's eye—truly embodying the team component of the competition.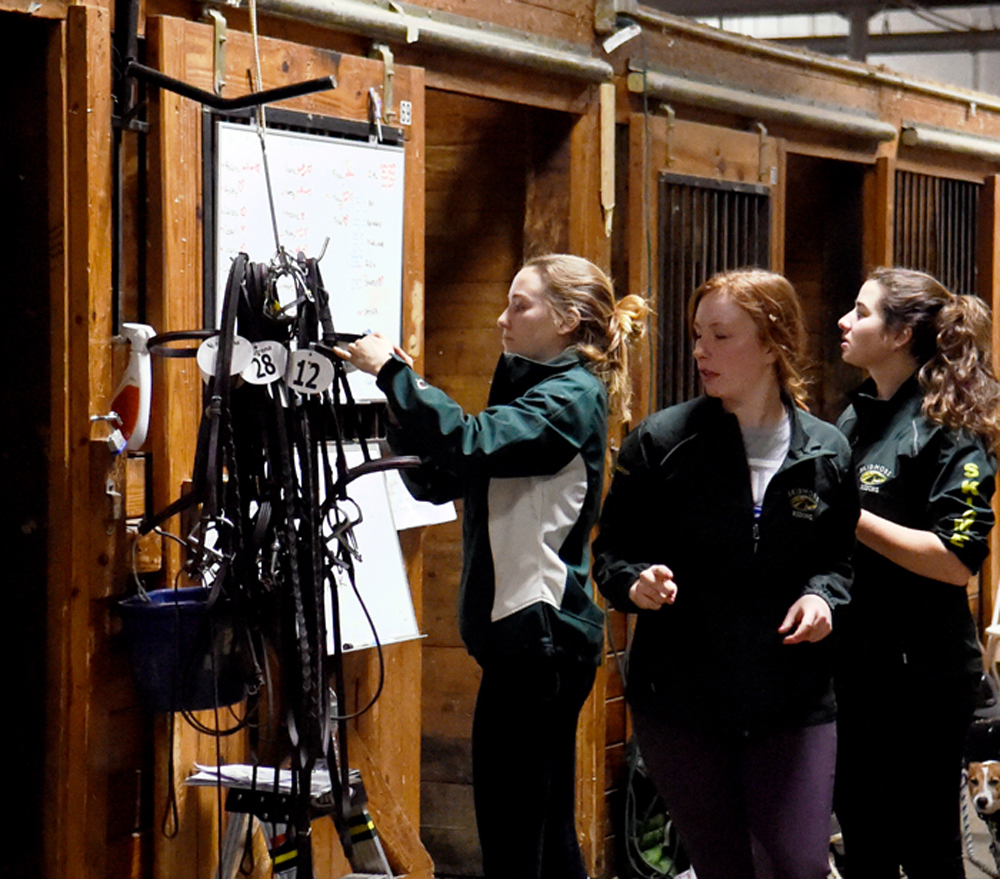 As they say, "Many hands make for light work." Well, it's still not a "light" day, but the behind-the-scenes helpers sure make it easier on the riders.
This is the fourth year that Cacchione has coordinated a partnership between IHSA Nationals and Smartpak for the award ceremonies after each class. Smartpak goodies from boots to grooming boxes to saddle pads to gift cards are awarded to respective placings.
"It's fun to be involved," agreed the volunteer Smartpak crew, who sticks to its presentation duties all week without missing a beat. They even accompany the top finishers back to the trophy room, where Thank You cards to sponsors await their messages and signatures.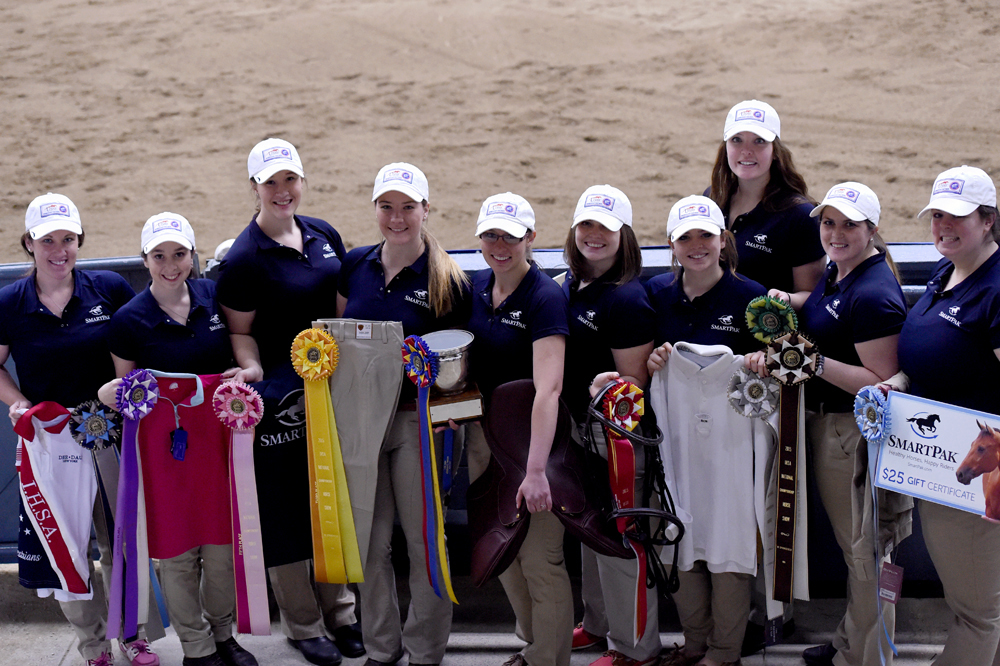 Not a class goes by at IHSA Nationals without the Smartpak awards crew shuttling out the loot.
The IHSA Nationals take place on April 30-May 3 in West Springfield, Mass. Want to see how each college's team is doing in the IHSA Nationals? Click here for team standings.
You can find all IHSA Nationals results here. And there's live streaming of all the competition here.