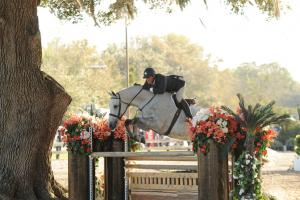 Check out all the news and photos from the last—and biggest—week of the HITS Ocala circuit.

The professional hunters show under the oaks at Post Time Farm.

Two reporters on separate sides of the country weigh in as Kate Conover scores a one-two win for the East Coast aboard Trendy and Kingston.

When Andre Thieme pulled up Contanga 3 after galloping around the jump-off for the $100,000 Sullivan GMC Truck Grand Prix, he didn't think he'd just laid down the winning round. That mare was relatively inexperienced, and the slowest of his three mounts qualified for the short course. He assumed that one of the others would outrun her.

After Karen Cudmore hit the dirt hard off her first horse in the $100,000 Sullivan GMC Truck Grand Prix, she wasn't quite sure if she was going to saddle up for another round on Shea. But she decided to go ahead, and that paid off with a big paycheck.