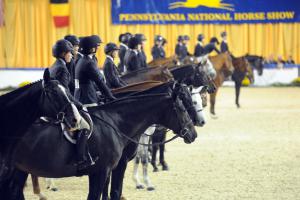 The Chronicle is on location to bring you all the news from one of the most historic shows in the country. Don't miss updates about the Grand Prix de Penn National CSI-W, Pessoa/USEF Medal Finals, Randolph College Prix des States championship—even the foxhunters in a competitive spirit with Hunt Night.

After winning the $40,000 Pennsylvania Big Jump on Thursday at the Pennsylvania National Horse Show with Game Ready, Irish rider Conor Swail commented that the gelding was his third string horse. But after capturing the victory in the $85,000 Grand Prix de Penn National, he admitted the horse may have moved up on his list.

Ellen Toon and her mount, Invincible, were not the only ones in the spotlight when they won the amateur-owner, 36 and over championship and the grand amateur-owner championship at the Pennsylvania National Horse Show.

We caught up with grand prix rider Leslie Howard to hear about her Harrisburg memories and her top mount Tic Tac.

Low amateur-owner champions are crowned, and one keeps her horses at home!

Conor Swail tops the $40,000 PA Big Jump.

Check out top tips for riding a perfect handy round.

Kelley Farmer takes home an armful of awards.
Havens Schatt and Bacardi take the grand green hunter title while Hunt Tosh picks up two championships.

Photos from Monday's professional hunters and Hunt Night.

It's not often these days that you see an Olympic gold medalist and grand prix rider showing in the hunter, but Peter Wylde is having fun with it.

Even the best horses have bad days, but Lillie Keenan learned to put mistakes behind her on her way to a big win.

Curious about the course? Want to know how a particular rider did? Check out all the stories posted about the 2013 Pessoa/USEF Medal Finals, including a course description and a round-by-round commentary on the whole day's action.

She pulls a rail in the last round, that that doesn't stop her from riding Londinium to the Randolph USEF National Junior Jumper Championship.

Check out this gallery of cute ponies from Harrisburg—which is your favorite?

Zone 5 wins the Randolph College Prix de States Junior Jumper Title For The Second Year In A Row

One of the top junior hunters stands out, but not just for his spots. Jenna Petrie-Moran watched One Hundred And One as he was foaled, named him, trained him and took him all the way to the top of the hunter ring.

Follow blogger Grace Powers as she prepares for and competes in her first Pessoa/USEF Medal Finals.
A top hunter rider's job is making her horse look easy—and sometimes that's a lot harder than it looks.
Get caught up on last year's big winners.