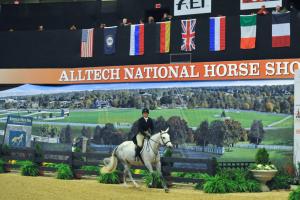 We're here in Lexington, Ky., for the Alltech National Horse Show. Check back often for all the news!

A year ago, this 17-year-old wasn't even dreaming of winning a top equitation final. Now, he's won two.

A description of the course, and the highlights of the action.

Just one week after losing his beloved father, McLain Ward honors his memory with a big win on Antares.

Check out a gallery of junior hunter winners.

Lauren Hough's little mare might as well have wings, she went so fast.

What happens when you're an hour out from showing, your horse isn't braided, and your show clothes are back at the hotel? Lisa Williams found out.

The Ohio professional has been on a roll this fall, giving the big names a run for their money.

What's the morning routine for the grand hunter champion? It's a bit unusual and involves breakfast plans.

Miss any of the action from the 2011 Alltech National Horse Show? Check it out here.

The live feed is free and will be available Friday, Nov. 2 through Sunday, Nov. 4.